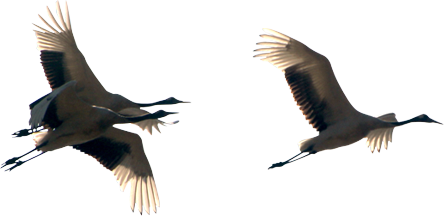 Kumya Wetlands
Waterbirds of the Kumya Migratory Bird Reserve
Waterbirds in Lagoon Ha
Mountain and Field Birds
Diverse Flora




Kumya Wetlands
The Kumya Wetlands cover vast areas in Songjon Bay on the coast of the East Sea of Korea, Lagoon Ha and the lower reaches of the Kumya and Tokji rivers. Rich in water resources, fauna and flora, they serve as ideal habitats and peaceful roost for various species of migratory waterbirds.
More than 200 species of birds are observed every year in the Kumya wetlands which present various types of ecosystems, including wide lakes and river estuaries and far-stretched reed and paddy fields.
The estuaries of the Kumya and Tokji rivers which flow into the East Sea of Korea are favourite haunts for many waterbirds.
Sprawling over 2 000 hectares, the area consists of diverse types of wetlands such as swamps, marshes, reed and paddy fields, salt fields and coasts which are favourable for the inhabitation of waterbirds and stopover of migratory birds. It is also abundant in such fishes as carp, goldfish and grey mullet, such aquatic animals as shellfishes and shrimps, and such wetland plants as wateroat, reed and cattail.
It was designated as the Kumya Migratory Bird Reserve in Juche 84 (1995).
Lagoon Ha, covering 4.3 km2 in area and 12.5km in circumference, never dries up and abounds with aquatic resources such as fishes, shellfishes, shrimps. Accordingly, it provides a habitat for tens of species of waterbirds like mute swan, whooper swan, common pochard and coot.
Various species of mountain and field birds can be found in the Kumya wetlands and its basin.
Lakes, swamps, salt pond, aquaculture ground, reed and paddy fields, coasts and the adjoining mountains and fields abound with various plants favourable for the birds' living.
Thanks to the state's policy on land administration and protection, the natural and ecological environment including mountains, rivers and reservoirs and lakes, are being improved day by day, with the result that animal and plant resources of the country are getting richer and more diverse.